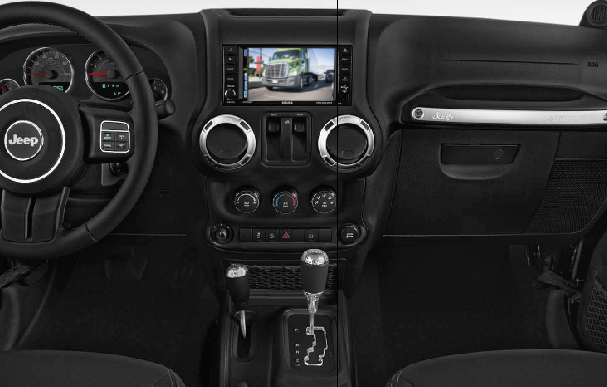 Are you the proud owner of a Jeep Wrangler manufactured from 2009-2017? Are you looking for a comprehensive aftermarket safety solution that includes a backup camera and blind spot elimination? You're in luck! The Echomaster Blind Spot Elimination And Lane Change Assistance Kit For Select Jeep Wranglers offers a comprehensive set of safety features that can help you stay safe in your Jeep
SPARE TIRE MOUNT BACKUP CAMERA FOR WRANGLERS

Improve your rear vision with a spare tire mounted backup camera.  Our kits include the camera, mount and interfacing to allow you to view your reverse camera on your radio screen.  The rugged design of the camera ensures that it will outlast any off-road adventure you may take it on.   Mud, trail debris, and water are no match for this little guy.  Parking lines can be turned on or off during installation.  With the parking lines turned on, they can assist you with judging the distance objects are from the rear of your Jeep.  Especially helpful off-road when maneuvering through tight spaces on the trails.  FC-WRANGLER requires dealer programming, FC-WRANGLERPRO includes the PAC backup camera interface, adding extra integration features and no dealer programming is required.
Sophisticated driver assistance for Jeep provides extra visibility in places your mirrors can't reach. Includes side blind spot cameras which can be mounted under side mirrors and a reverse camera. The side cameras can also be mounted in a different part of the Jeep, off your Wrangler's doors, so when you take those doors off, you still have visibility into the side of your Jeep when using your turn signal.  Go ahead, enjoy that Wrangler the way it was meant to be enjoyed.

SIDE BLIND SPOT CAMERAS FOR WRANGLERS

To take your Wrangler's camera system to the next level, our FC-WRANGLERPRO-RSC includes the spare tire mount backup camera, and side cameras for lane change assistance and visibility into your Jeep's side blind spot.  For Wrangler drivers that like to take their doors off in the summer, but hate losing their side view mirrors, the side cameras can be mounted anywhere on the side of your Jeep, so you can lose your doors but not your side view.  The PAC interface integrates the camera system seamlessly into your Jeep's infotainment system, attuned to your driver behavior.  Using the left and right turn signals triggers on the corresponding side camera, placing the car in reverse turns on the backup camera. 
Whether your off-road adventure includes bashing dunes or crawling rocks, EchoMaster Wrangler safety accessories let you worry less about your safety and more about your next adventure.  Your (safe) adventure awaits.