AHD stands for Analog High Definition. AHD is an analog closed-circuit television video surveillance standard of high definition 720P video which allows the camera to send an HD signal over a standard coax or RCA cable. EchoMaster's AHD cameras offer a resolution of 720p standard HD versus CVBS cameras, which only offer a resolution of 480p, resulting in crisper, clearer details compared to traditional vehicle safety cameras.
EchoMaster's line of AHD cameras leverage the latest in sensor technology, delivering precise details when you need them the most; especially useful in commercial vehicle applications. EchoMaster's  robust lineup of AHD cameras, available in seven different styles, covers a wide-range of mounting options. EchoMaster AHD cameras feature a proprietary closed technology system, which can be leveraged when paired with one of our compatible high definition monitors. These can be be flush-mounted into the dash for a custom installation, or mounted to a dashboard or ceiling for easier viewing and installing.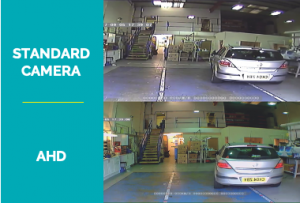 Improved Visibility in Low Light
Night driving brings additional elements which can impede drivers' ability to operate commercial vehicles safely. With EchoMaster AHD cameras, drivers are assisted even when faced with low or no light. The cameras utilize built-in infrared, which activates in these low or no light situations, allowing the cameras to reproduce black and white images with similar clarity of daytime images.
Improved Image Under Conditions with Multi-Lighting
With integrated multiple exposure technology, the images delivered will be an analysis of the entire scene. This allows the camera to cover a full range of exposures, and still deliver the driver a usable image. For example, if you are backing out of a dark garage into bright sunlight, where other cameras may not be able to reproduce both images and lighting conditions simultaneously, EchoMaster cameras can read both lighting conditions at once, alerting the driver into any potential pedestrians, vehicles, or other objects within their driving field.
Improved Color Representation / Color Noise
EchoMaster's AHD cameras produce the highest quality images, with crystal clear details, reproducing even the smallest details within the image thanks to the 1.27 million pixels. The high sensitivity pixels reproduced by the EchoMaster AHD cameras allow you to see even the most finite details, ensuring a safer driving experience