Intelligent towing meets digital with Intellihaul 3.0
Built with towing in mind, this system includes side blind spot cameras, a front-facing camera, a wireless trailer camera and an integrated smart graphical user interface. The smart graphical user interface is integrated into the factory screen and automatically activates cameras based on driver behavior – left and right turn signals, placing the vehicle in reverse. Manual camera activation is also available using the touch screen controls.
While towing in Silverado and Sierra trucks, the driver is presented with significant blind spot areas when driving, parking, and reversing. This system provides visibility into those blind spots to help improve the driver's situational awareness, enabling a safer and more informed driving experience.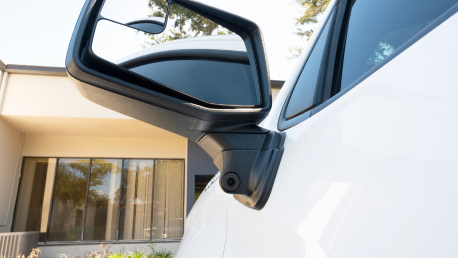 Factory Match Mirror Caps
The proprietary mirror caps, to house the high definition blind spot cameras, were engineered to match the factory side mirror color and texture. The camera housing will seamlessly integrate into the vehicle's side mirrors to provide more visibility into those blind spots without adding any additional bulk to the vehicle.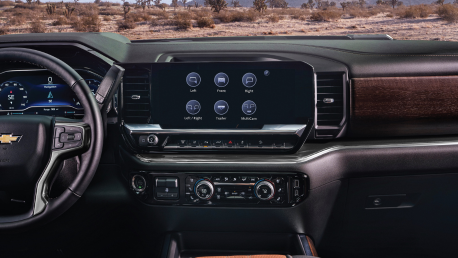 Smart Graphical User Interface
The Graphical User Interface (GUI) was designed to have the same look and feel as the Next Generation 2019+ Light Duty and the 2020+ Heavy Duty Silverado and Sierra Trucks' factory head unit. This intuitive GUI allows manual activation of all cameras, plus a split and multi-view screen option.
Front Camera
The front camera was designed to mount to the truck's front grill or bumper. The HD camera contains a Sony IMX 225 Sensor and provides a 170° viewing angle. The camera can be set up to automatically activate based on driver speed or manually activated by the integrated touch screen GUI.
For Silverado and Sierra Trucks
This product (19433460) could not be loaded.
This product (19433461) could not be loaded.
This product (19433462) could not be loaded.
This product (19433463) could not be loaded.